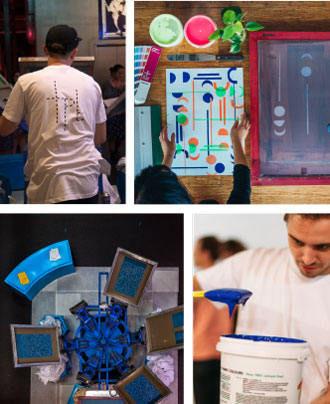 We're in the business of print, design and creativity and are proud to say we've garnered a reputation for our top prints, creative workshops, live printing and screenprint art exhibitions.
Run by a team of designers, artists and print specialists, The Print Bar's goal is to take our client's plans from ideas to print. We have no print minimums or maximum runs, and our easy-to-use website and online designer enables everyone to easily create and print their own high quality custom t-shirts and printed products.
Our Story
Like most ideas, The Print Bar came from humble beginnings. In 2011 a passionate creative, Jared Fullinfaw, started printing and selling his own t-shirts from his home in the outer suburbs of Brisbane. He discovered that more and more people and local businesses wanted their own custom designs printed and that there wasn't an easy way to go about this. This was the motivation for starting The Print Bar.
Today the company's core values run much deeper. We aim to inspire creativity. This begins with the intrinsic meaning behind every shirt we print, whether helping unite a small business, making a special occasion memorable, raising awareness for an event or simply fuelling people's creativity, we want to help people share their ideas.
We've grown rapidly over the years and our print family has grown with us. We are now a team of 25, including master printers who bring years of experience to our team. We've moved into a creative warehouse in the heart of Brisbane and now have the most advanced printing equipment in Australia, and this is what makes The Print Bar the best garment printer in the country.
We've got big plans to expand into garment production and increase our support of ethical manufacturing. We're excited for what the future holds - why not join us for the journey?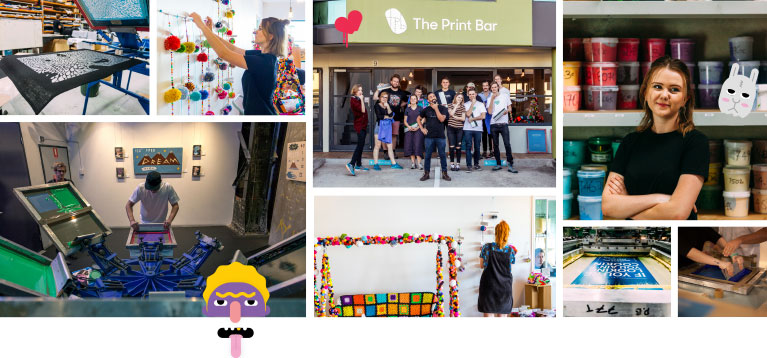 Why use the Print Bar?
We're an award winning business.

We offer unparallelled print quality.
All of our prints are retail quality and we've had the pleasure of printing with many companies, bands, fashion labels and groups such as:

We're ethical and environmentally responsible.
We pay our staff a fair wage
We ensure all garments we stock are ethical
We donate to BRAC and The Clean Clothes Campaign to help raise the living
Conditions of garment workers around the world
We donate garments to Orange Sky Laundry
We recycle our used ink carts with Cartridges 4 Planet Ark
Our inks are eco-friendly
Design in three easy steps.