Set Up
Prepare for setup
Entering information into your site is quick and easy if you know what values to enter. Do your homework before starting setup to make the process quicker – but more importantly to make it right. Before you start to set up your store, you need to prepare as follows:
• Learn how ThePrintBar software is structured. Even check out how other website's work on our '
ondemand
featured stores page'.
• Collect the business information you'll need during setup.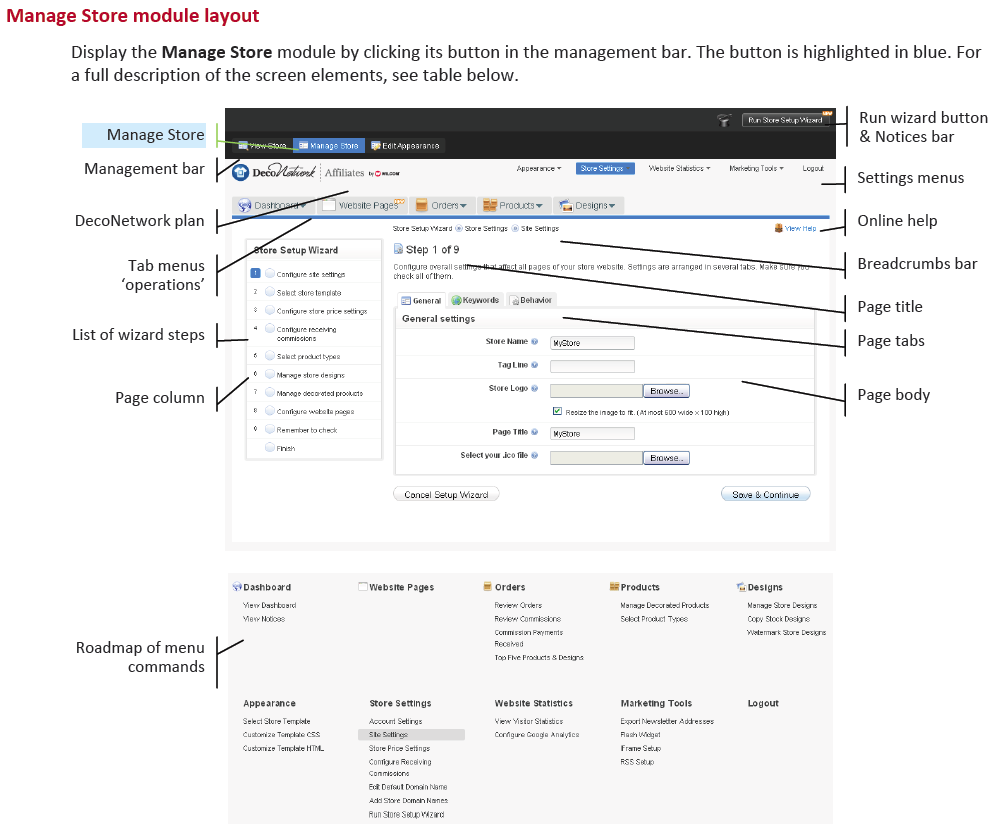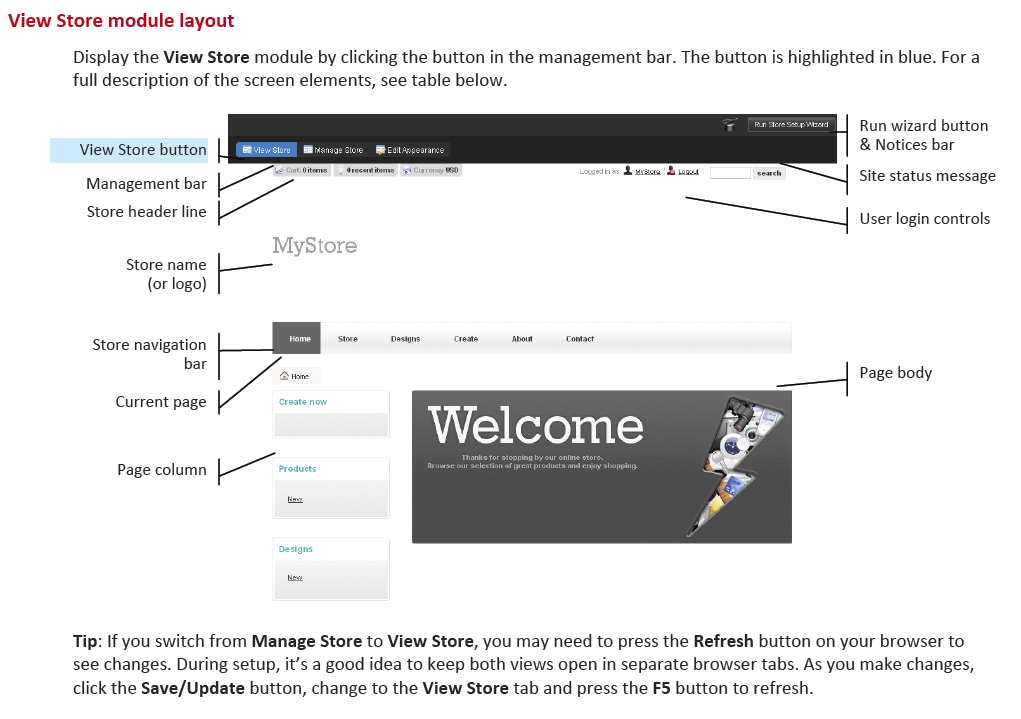 'Under Construction' stage – setup wizard
A newly created Print Bar site's status is 'Under Construction' until you complete the setup wizard. If someone
goes to your store web address, they will see the message:
'This site is under construction. No orders will be processed.'
The setup wizard can't do it all for you
The setup wizard leads you step-by-step where you configure the mechanics of an operational site, but they can't do
everything for you. The wizard doesn't know what best suits your business or preferences, so you have to consider the
impact of each choice and provide the right information to configure the site to work best for you. The wizards
do not prompt you for all possible settings – non-essential items are not covered. But they do remind you to 'also
consider' various other settings once you get the essentials under control.
Complete the setup wizard in the right sequence
It is important to follow the wizard steps in the sequence prompted. Later steps depend on the answers given in the
earlier steps. You can go back to earlier steps and change settings if you make a mistake or change your mind. But if
so, step through the other steps again in sequence to check for any pre-requisite conditions. It is possible to jump in
and out of the setup wizard to these screens, and to skip steps if you don't have the information handy. But it is better
for newcomers to follow the steps in sequence until they become familiar with how the system functions.
'In Testing' stage
When the setup wizard has completed, the site is considered to be 'In Testing'. A status message is displayed to
logged-in users near the top of the screen:
'This site is in testing. Click here to Go Live'.
If someone goes to your store's web address and are not logged in, they will see a different message:
'This site is in testing. No orders will be processed.'
When 'in testing' you should enter test orders in the store. Check that the commercial and production settings are
correct. Fine-tune the presentation of your products in the store. Adjust as required until satisfied.
Note: When 'in testing', no real credit card payments are made. A dummy payment gateway is used for testing. Test
orders are not included in your sales/order history.
Go Live
When you have finished testing and are comfortable that your site is configured OK, click the link on the status line
'Click here to Go Live'. The Print Bar only uses the PayPal payment gateway. Orders entered after this will cause real
money transactions through this payment gateway.
Sell
When your Print Bar site is 'live', you naturally want to sell products and make money. Make sure you:
• Advertise and promote your site.
• Monitor how your site is doing with visitor traffic and order statistics.
• Consider modifying your site or your products to optimize your online business.
The business principles of retail merchandising apply online as well!
Accessing your eCommerce site
Access your website via its web address.
Immediate access after signup
When you sign up to your site you are prompted to enter details to identify you, your new website, and your login details. Select 'Begin Setup Wizard' to take you to your site, logged in, to begin setup.
Tip: Save the web address of your site as a 'favorite' or 'bookmark' in your web browser.
Account details in signup email
After signing up, you will receive a welcome email from The Print Bar summarizing your account details and web address. Refer to this if you forget your website address or login details.
Public access to your store
The store part of your website is immediately viewable 'online' – accessible to any member of the
public if they happen to discover your website address. But don't worry they can't do any harm:
• The public only sees the store front – not the private backend details.
• They will see a message 'This site is 'Under Construction' – no orders will be processed'.
Log in for private access to your store
To gain access to the private Manage Store area of your site:
• Go to the web address (URL) of your site in your web browser.
• Log in using the account details you registered with during signup.
• Click the Manage Store button in the management bar near the top of your screen.