Introduction
Welcome to The Print Bar's online free stores and dedicated online retail websites. It is a full‐featured eCommerce system offering a complete website, shopping cart, order management, and online 'designer' for selling custom decorated T‐shirts, apparel, caps, mugs, and many other types of
goods to other businesses or to consumers.
The Print Bar provides these capabilities via a hosted website which you configure to suit your business – your brand, your products, your designs, your pricing. It is your online business. The Print Bar receive's orders from your consumers via your online store and straight away gears into
production and shipping of decorated goods to your consumer.
Purpose of the guide
This setup guide is in sections to help set up your store and get the best benifits and sales.
• Provides an overview of the setup process
• Identifies some preparations you should do before setup
• Explains some key concepts of the stores
• Identifies the main parts of a Print Bar website
• Guides you through the steps of the Setup Wizards
This guide does not explain all details of every setup page but rather identifies the non‐obvious issues, informs you of
the effect of choices you need to make, and gives advice on how to make good choices to suit your business. You can
get detailed information on commands and pages in the system from the online help system:
• Home page: http://help.deconetwork.com/Home.aspx
• List of help topics: http://help.deconetwork.com/Help.aspx
• Click the View Help button in the upper right of any screen to get context‐sensitive help for each page.
Overview of the setup process
Setting up a new store is done in several stages as outlined below. Setup is only the beginning though. It will lead you to a technically functioning site, but you need to actively use and manage the site after it is set up to achieve business success. Just as you would a physical store.
Stages of setup process
Signup - Set up your Print Bar account, read the Terms of Use, and create your blank website.
Setup - Configure your site to suit your business: Prepare for setup: do your homework.
Site is 'Under Construction' : Run the Store Setup Wizard.
Site is 'In Testing': Test and fine-tune your settings.
Go Live Switch your site over to commercial transactions: Enter in your pay pal email address to recieve payments and you are now open for business.
Sell - Operate your site with real orders
Register your site with search engines such as Google, Yahoo, Bing, etc.
Actively publicize and promote your site to bring visitors to it.
Actively manage your stores merchandising and marketing.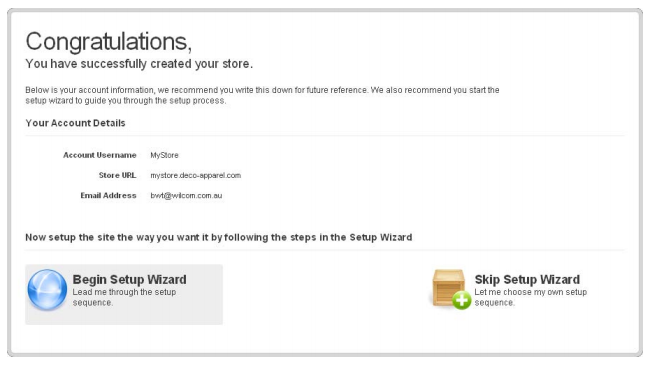 Signup
You sign up for The Print Bar free store via this '
Create Store
' link or on our on demand webpage.
During signup you need to provide a few details
Account username - Your username is the unique identity you will use to log in to your store. It must be a single word, no spaces and only alpha-numeric characters (abc123).
Account password - Your account password should be at least 6 characters long with no spaces. It should contain both letters, upper and lower case, and numbers. Your password is your key to your website. Never share it.
Store URL - By default, the 'primary domain' name for your online store is made up of your username together with a domain name provided by The Printbar– e.g. 'myusername.printup.com'. The username always appears before the domain name. Together, they
make up the default 'URL' of your online store. You can edit the prefix at this stage if you prefer something different to your username and totally customise this anytime.
Note: Once you have set up your site, you can change your 'starting domain' name to
anything you like, including your own registed domain name.
Email address - Enter your current email address. The Print Bar will send you an email after you have
registered. Please add 'sales@theprintbar.com.au' & 'sales@theprintbar.com' to your safe list and check your spam folders for the email.
Note: The Print Bar does not share your email address. Read our privacy policy.
Terms of use - By ticking the checkbox you are agreeing to the terms and conditions of signing up with
The Print Bar. We urge you to read these carefully. Print out a copy for your reference.
You are sent a welcome email with a summary of these details for future reference. You will be prompted to set up
your site via the setup wizard. Click Begin Setup Wizard to proceed.